Brain & Nervous System Pro III
By 3D4Medical.com, LLC
Description
*** ***** ON SALE FOR A LIMITED TIME ***** ***

BRAIN AND NERVOUS SYSTEM PRO III - AWARD WINNING NEUROANATOMY APP BY 3D4MEDICAL.

* * * * * GOLD award winner - Web Health Awards * * * * *

PRESS REVIEWS:
Brain Pro is an ambitious application that is well designed and executed. It's a viable academic tool, and a serious reference guide for anyone interested in learning more about a body's super computer – the brain. - Apptudes

This application contains many successful features such as realistic images, selective layers, pin information, dynamic quiz function which ensures that it is certainly worth a look. - iMedicalapps

NOW WITH ANIMATIONS:
Functional Animations:
* Cerebo-spinal Fluid Flow
* Neurotransmission
* Patellar Reflex Arc
* Neuronal Synapse

Disease States:
* Astrocytoma - Brain Tumor
* Oligodendroglioma - Brain Tumor
* Multiple Sclerosis



BRAIN & NERVOUS SYSTEM PRO III'S TOP FEATURES ARE:
** 360 horizontal degree rotation of any body part - with a swipe of your finger.
** Rotate vertically for inferior and superior for unique views where applicable.
** Tri-planar multiple "slices" of the brain.
** Isolated media of specific nerves.
** 728 pin labels with audio pronunciations.
** Draw on any screen image and share it through email, Facebook or Twitter.
** 2 types of Quiz, Drag and Drop and Multi-choice - with ability to test on specific areas or muscles.

NEW FUNCTIONALITY:
** Interface: Completely rebuilt to allow for simple navigation.
** Mix layers: Make one layer semitransparent to compare against another layer.
** Public Notes: Post or browse through shared public notes.
** Graphical Hints: On screen hints that can be turned on or off, for a complete understanding of all the app's features.

OVERVIEW:
Brain and Nervous System Pro III now features multiple orthogonal slices on the transverse, sagittal and coronal planes, meaning you can 'slice' through the brain effortlessly to reveal the inner anatomy of the brain, from top to bottom, left to right and front to back. The app is unsurpassed in its level of detail and interactivity. Now with a simple swipe of your finger, you can explore neuroanatomy from a basic to advanced level.

This upgrade also features spectacular animations, which offer insights into diseased states and functional anatomy down to the cellular level. Additionally, an entirely new and comprehensive peripheral nervous system is now incorporated, while the central nervous system has been expanded within a detailed spinal column.

Brain and Nervous System Pro III includes two new levels in brain, which detail the ventricular systems and Brodmann areas, making it the most comprehensive neuroanatomical app on the market.

MORE FROM 3D4MEDICAL:
- Heart Pro III - Interactive Cardiology
- Muscle System Pro III - Interactive Musculoskeletal Anatomy
- Skeletal System Pro III - Interactive Osteology
- Spine Pro III – Interactive Chiropractic App
- Orthopedic Patient Education – Interactive Orthopedics
- Specialized Body Region Apps

OTHER 3D4MEDICAL APPS ALSO AVAILABLE IN THE HEALTH & FITNESS CATEGORY ON THE APP STORE:
- iMuscle – Workout aid and anatomical reference
- iYoga Premium – Ground breaking motion capture yoga app

3D4MEDICAL'S COMMITMENT:
We take pride in our apps at 3D4Medical and continually strive to engage with our customers. From the first edition of Brain Pro, we have consistently listened to our users and upgraded our apps continually and throughout.



Email us via the App Feed Back address below to engage with our product development process:

B&NSPIIIFeedback@3D4Medical.com
What's New in Version 3.8.2
iOS11 compatibility
iPad Screenshots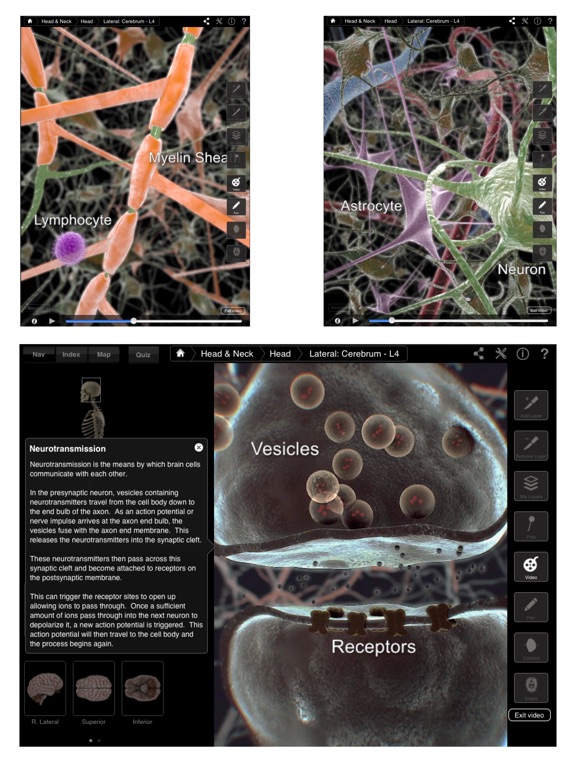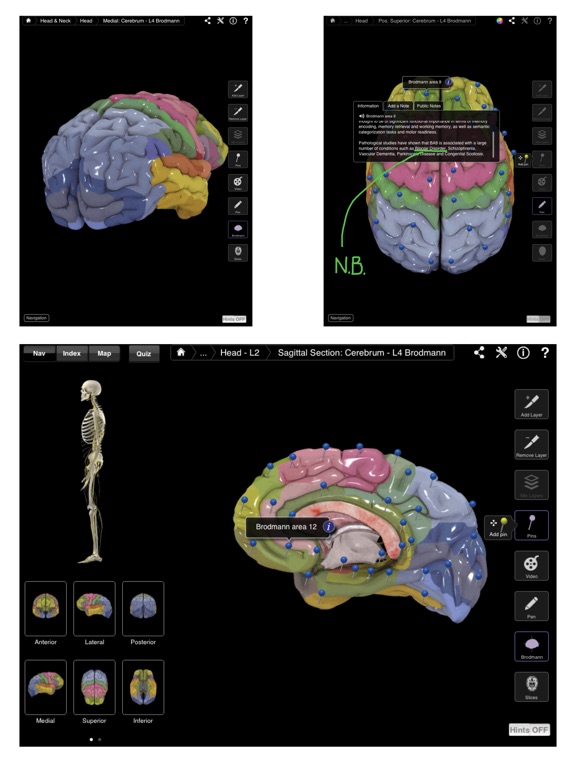 Customer Reviews
Could use a tweek
I purposely have not upgraded to iOS 11 until the update is complete for this app.

The issue I have is that pins are in the way of structures. I would suggest being able to turn off selective pins - toggle.

Otherwise it is a very nice app.
View in iTunes
$9.99 ea. (1-19 units)

$4.99 ea. (20+ units)

Category:

Medical

Updated:

Sep 26, 2017

Version:

3.8.2

Size:

822 MB

Language:

English

Seller:

3D4Medical.com
Compatibility: Requires iOS 9.3 or later. Compatible with iPad.
Device-Assignable